Three Generations as Hondo's Downtown/Hometown Restaurant
Abel and Juanita Dominguez, 1930-1940
Abel & Juanita Dominguez, Original Azteca Cafe owners with their youngest son, Arturo.
Arturo & Alicia Dominguez, 1992 - 2001
Arturo & Alicia Dominguez (pictured here) spent about five years rebuilding the original Azteca Cafe building and resurrected it as El Restaurante Azteca in 1992.  Arturo & Alicia enjoyed tremendous success and they later expanded the original restaurant and added two parking lots.
Arturo Jr. (Tuddy) & Lissy Dominguez, 2001 - current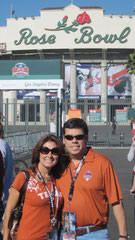 Since 2001, Tuddy & Lissy Dominguez have owned and operated the business known as El Restaurante Azteca.  See Historical Cover on our website for complete history.